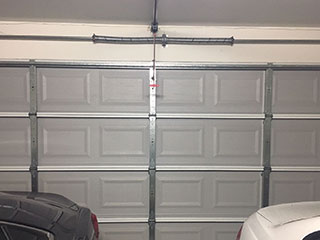 Your garage door uses a system of springs in order to support and counter balance its weight in order to move up and down without you or your opener over straining from the heavy load. These components are under a great deal of stress on a daily basis, and adjusting their tension or replacing them can be incredibly dangerous without the required professional training and experience. When you find yourself dealing with a problem that has something to do with these units, you better let our team handle it.
Extension and Torsion
There are two different types of these units that are used today. Extension springs are the older of the two. They're installed in pairs, each unit on a different side of the door. Since they work by extending and contracting, they have shorter life spans, and they're more likely to go flying when they do finally break. Torsion springs are the relatively newer variation. These units work by providing torque, which they achieve by twisting and unwinding. This makes them more durable, and far less likely to whip around if they break. They need more headroom than their extension based counter parts, so they may not be the perfect fit for every garage.
Broken Spring Replacement
Even after one of these units breaks, trying to handle it remains very dangerous. The process of installing a new spring involves loading the new component with tension that's equal to the weight of the door, and the heavier the panels are, the more stress the new spring will need to be able to support. That's why you should never try to carry out any repair or replacement job yourself, and instead leave this sort of work to trained technicians.
Our Experts Are Here To Help
Whether you want to schedule a service appointment or you suddenly find yourself in need of emergency spring replacement, our team at Garage Door Repair Queen Creek will be happy to lend you a helping hand. Contact us today and let our professional technicians take care of whatever you need.
Let our team take care of it for you!

Overhead Door Installation

Emergency Broken Spring Replacement

Screw Drive Opener Replacement

Garage Door Opener Maintenance