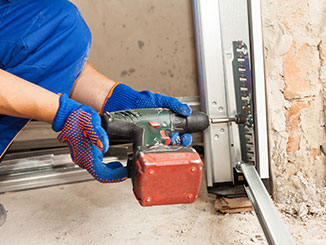 There are many reasons why your garage door may start acting up all of a sudden. It could get stuck, stop opening completely, or refuse to close seemingly out of the blue. Every malfunction has a specific cause, and our technicians know exactly how to troubleshoot and solve every possible problem you may experience.
Safe Spring Replacement
A problem with the springs is usually very hard to miss. If it's a matter of weakening tension, you'll probably find your door sagging while in motion, or making excessive squeaking noises. If a spring broke, well, the loud BANG that it makes will be very hard to ignore. Whatever the reason for the problem, if it involves these hardworking parts in any way, you can count on our technicians to take care of it quickly and safely. Dealing with these units can be very dangerous, so you better leave things up to our team.
Comprehensive Opener Motor Repair
You may suddenly find that your motor unit starts making empty whirring sounds, or loud crackling noises, followed by failed attempts to open the door. These signs usually mean that something is wrong with the motor. Our experts can safely replace this component for you, and ensure that your opener returns to its fully functional state as quickly as possible.
Door Got Off Track
Wear and tear goes with the territory when it comes to garage doors, and some parts can be more susceptible than other parts. Over time, the tracks can become blocked with debris, or pick up a few dings and dents, which can prevent the roller from moving through them smoothly, or at all. Our team can straighten out any bent sections in your tracks, and even correct their alignment in order to ensure that the door doesn't end up collapsing when you try to move it.
Leave It To The Experts
Remember, some problems can be very difficult and dangerous to handle, so you should avoid trying to handle complex issues yourself and instead give our team at Garage Door Repair Queen Creek a call. There's no problem we can't solve.
Count on our team for:

Torsion Spring Adjustment

Extension Spring Adjustment

Garage Door Safety Inspections

Genie Garage Door Opener Services