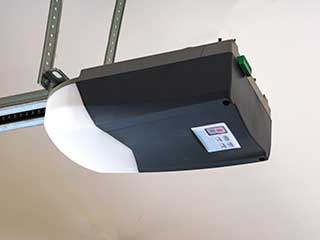 Unlike many other parts of your door system, problems with the opener can be hard to diagnose. If your springs break or the door panels become dented or otherwise damaged, it's clear what the problem is and what needs to be done to fix it. But opener related issues can be much more subtle. Thanks to our many years of experience, our highly trained technicians are able to quickly pin point the root cause of any problem and provide a quick solution for it.
Fast And Effective Repairs
An opener is a complicated device, it needs to be able to work with dozens of different parts simultaneously; from the safety sensors to the remote control system, to the drive itself. Any of the different components can develop a problem,from the motor gears to the trolley and even the opener's circuit board. Our team can diagnose the underlying issue, and we work closely with many manufacturers to supply brand-name replacement parts and even completely new opener models.
Avoiding Accidents and Breakdowns
A common cause of opener problems is the gradual wear and tear the system undergoes. Knocks and bumps, buildups of dirt and a lack of lubrication can all contribute to component failure, but this can all be minimized with regular maintenance. Our team will thoroughly check the opener's different parts, from the trolley to the circuit board, looking for any signs of wear. We'll also test the different safety features and the alignment of the photo eye sensors, in order to ensure that the unit is able to reverse the door's movement when something gets in its way.
Upgrading Your Opener
Garage door openers are traditionally loud, noisy machines, but modern units are very different. We work with brands like LiftMaster, Genie and Chamberlain, and we can offer you the best models on the market. Our experts will help you take things like opening speed, noise output and more into consideration, in order to ensure that you get the best opener for your garage.
Get In Touch With Us Today
If your opener starts acting up for some reason, or if you're interested in upgrading to a new modern model, contact Garage Door Repair Queen Creek. Our team is always ready to help homeowners with any type of issue they may be dealing with.
Our team can also take care of:
Roll Up Garage Door Services
Garage Door Tune Up Services
New Opener Remote Controls
Garage Door Cable Replacement