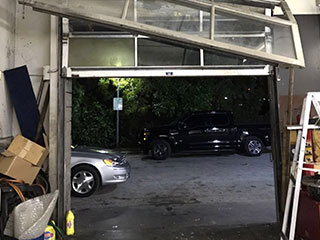 There are plenty of things that can go wrong with your residential garage door system. It's important to remember that malfunctions involving a piece of machinery as large and heavy as your door be very dangerous, so you should never bite more than you can chew, as it were. We want our customers to be as safe as possible, so we came up with a few examples of a few of the most dangerous problems that your door can suffer from. Contact our team immediately if you're dealing with any of these issues.
Broken Garage Door Spring
The weight of your door is supported by strong torsion or extension springs. If these parts break suddenly (this will usually happen while the door is open or while it's being opened)the panels can come crashing down, which is a risk on to its own. The thing about springs, though, is that because of the tension they store in their coils, they can whip around when they break, and cause serious lacerations to anyone unfortunate enough to be standing nearby. Naturally, you'll want to avoid that, so you must never attempt to handle these components yourself, not eve for adjustment purposes. If your springs start squeaking or if your door seems to be unbalanced, let our experts know.
Faulty Safety Mechanisms
Your electric opener has several safety features that allow it to avoid accidents. These include the photo eye sensors, which detect any objects in the door's path, and the auto-reverse mechanism, that makes the door reverse if it encounters residence while closing. These features need to be tested regularly to ensure they're working properly; it's quick and easy to do, and can help to avoid accidents further down the line. Place an object under the open door and then close it using the opener. If your door hits the object and doesn't reverse immediately, its force limit probably needs to be adjusted. To test the sensors, wave a broom stick between them while the door is closing. Again, a failure to reverse will mean that your door needs to be checked by professionals.
Frayed And Worn Out Cables
The cables that hold your door up are very strong, but if they start to become frayed they'll quickly weaken and break. Check your cables regularly for any signs of braiding, corrosion or fraying, and if you find any problems be sure to reach out to our team immediately.
Avoiding Dangerous Problems
Careful homeowners can prevent many of problems from arising by thoroughly examining their door on a regular basis. However, we do recommend scheduling maintenance check-ups with our technicians, since our experienced team will be able to quickly identify the early warning signs and provide a solution for them.